About Our Company
One year ago, we, Schoeller India Industries Pvt. Ltd., emerged in the industry with the objective to conquer it. In a very short span of time, we have earned respect as a manufacturer, exporter and importer of a wide variety of products. Our range is inclusive of A4 Size Dye Sublimation Paper, A4 Size Photo Imaging Paper, Ultra Gloss Bright White Paper etc. These offerings are greatly preferred for their exceptional quality. Our products are offered at market leading prices which is one of the reasons of our popularity across the globe. We are already serving a huge clientele and expect its growth in the coming years.For convincing customers, that we are a reliable partner, our team works for them with complete dedication. We make clients proud of their decision of choosing us and provide them with best association experience.
We have been getting bulk orders from all over the world. Owing to our heavy manufacturing and supply capacity as well as efficient logistic facilities, clients' orders are fulfilled in no time. We guarantee quick and on time delivery of consignments. Apart from qualitative product array, we are known for other aspects of our business like transparent dealings, ethical trading values and perfection-focused approach.
Brands We Deal In
Our company is popular for making available a wide array of qualitative items like A4 Size Dye Sublimation Paper, 4x6 Compu Color Photo Imaging Printing Paper etc. Our brands are in great demand in domestic and international markets. Following are the brands that our enterprise deals in:
Compu Color
S-Race
E-Photo
Styline and many others
Accurate Packaging of Consignments
Packing the assortment with perfection is an important factor to safeguard the quality of products. Keeping this in mind, we have established a separate panel where all our offerings are accurately packed. The unit is equipped with modern automatic machines that help us to execute process in efficient manner. After items are packed,the array is checked by experts. They make sure that there are no cuts on sides and holes on surface of packets.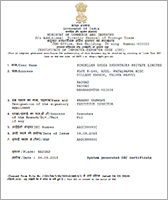 Read More